Would you like to build your own garage cabinets and other projects? Submit your email address and then download these free garage cabinet plans to build your skills. Then gain the knowledge to build bigger garage storage cabinets and even kitchen cabinets!

Download this free garage cabinet plan to see if you're ready to build your own garage cabinets. It's a simple wall cabinet made from a single sheet of plywood. It's the perfect cabinet to have in the garage, basement or laundry room.
Try your hand at this practical shoe bench. Just one sheet of plywood is all it takes. This is perfect for the mudroom or garage – maybe even the laundry room, too.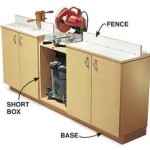 Also, get the plans for a chop saw stand modeled after the one in this photo. This is a functional set-up and will get you acquainted with plywood cutting diagrams and cabinet assembly sheets.
Plus more to test your skills!
► Just fill in the form, check your email box and you'll get all these plans and more.
More Plans To Choose
Here's an easy 5 pc garage cabinet plan. If you need more storage, take a look at the 8 ft or 10 ft garage cabinet plans.
Want more options? Learn more about custom garage cabinet plans prepared specifically for your space!
► Get all the plans for just $10 –  click here.
Learn how to build garage cabinets.
Questions or comments? Leave them in the box below. Or click a share button to show a friend.
More Plans to See . . .